Last month, SM City Cebu launched a contest and invited big families to join. They were looking for families with most number of "apos". This activity highlighted the Grandparents' Day celebration last Sept. 8, 2013.
After reading about the contest in SM Cebu's Facebook page, my daughter Cille thought that our family has to join the contest. And why not, during our family reunions, oftentimes you can hear remarks like " we can surely win if there is a contest for many apos".
Cille, then submitted a picture of her Lolo and Lola together with their grandchildren taken during my parents' 50th wedding anniversary in 2008.

Does our family has a chance to win?
I told Cille that our family will not win. Although we are big, there are families bigger than ours. To this, she just quips, "no problem, at least our pic will be posted on SM Official FB. he..he.. he. We will just comply with the requirements, who knows luck will be on our side.
Submission of Required Documents
However, families who joined the contest need to submit some requirements.  
To find out what documents needed to be given to the contest organizer, Cille went to SM Cebu on the afternoon of Sept. 4. She learned that we have to submit the family tree and all our birth records: from Ma & Pa, me and my siblings and all the apos. In short… the birth records of the 3 generations starting with my parents.
Cille was on a quandary on what to do to gather all the birth certificate and submit these to SM Cebu marketing department who organized the contest on such a short period of time.
To be sure that many family members will know about the contest and the requirements, at almost midnight of Sept. 4, Cille posted a message on her FB requesting my siblings and their children to bring their birth certificate to our house the next day.
She assigned one child of each of my 7 siblings to follow-up their mom and dad. The last day for handing in the requirements was Sept. 6, less than 48 hours away.
I also called my 2 sisters who are not frequent FB users regarding the contest and the requirements.
Well, amazingly, the family members cooperated at such short notice. Within 24 hours after Cille's FB shout out, most of the birth certificates were delivered to our house by my siblings. They were also excited that our family will join the contest.
Probably, you will be thinking that the family members have all their birth certificates.  You are wrong. Not all of us have their birth certificates on hand. One of my sisters and a brother went to the city local registrar to get a copy of their birth documents.
See? The family members exerted extra effort so we can satisfy the requirements of the contest. I, my siblings and our children want our family to win. We know that winning the contest can make the family's patriarch and matriarch happy.
According to my daughter, this is for Lolo and Lola! If our family wins, this can be a special and memorable event in our lives!
After making the family tree and had all the birth certificates photocopied, Cille submitted the documents to SM Cebu contest officials at past 4 pm on Sept. 6, just beating the deadline.
The notice from SM Cebu that the family won!
Late evening on Sept. 6, while browsing on her FB, my daughter excitedly shouts, we won! we won! … One message in her inbox was from the SM Official confirming that our family was declared as the winner of the contest. The in-charge of the contest told my daughter to bring the whole family to SM for a pictorial and to claim the prizes.
Imagine! Our family really won for the most number of "apos" contest!
Are we really that big?    See for yourself below…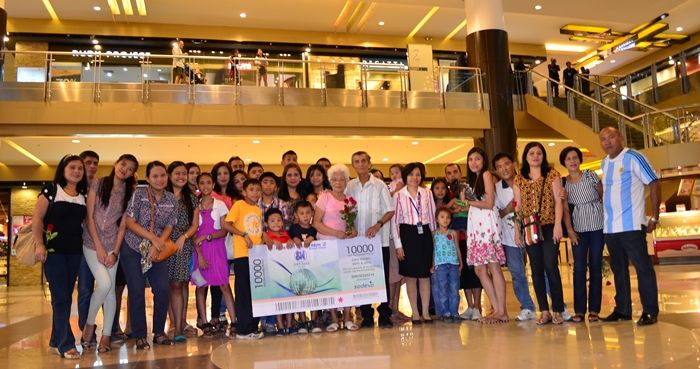 The Grandparents' Day celebration in SM Cebu
So, last Sept. 8, our family went to SM City Cebu for a special Grandparents' day celebration. We started the day by attending a mass in SM Cebu North Wing. After that, the awarding of the prizes to my parents and picture taking to the max!
It was a day of pictorial for the whole clan. But of course, the main protagonists in the photo sessions were the grandparents and the grandchildren. It was Grandparents' Day, remember?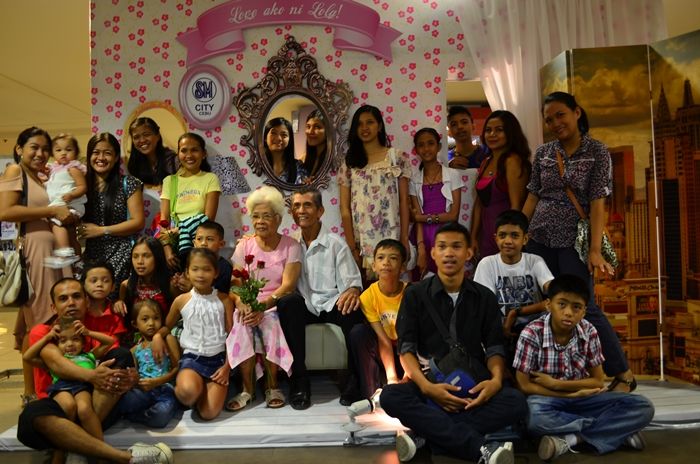 Indeed, the recent grandparents' day celebration was an unforgettable occasion not only for the grandparents of our family but to all of us. Aside from the prizes that the family received, we also had great bonding moments. Almost all family members went to SM to take part in the picture taking and had lunch together afterwards.
As prizes, my parents received 10k Gift Certificates from SM and Mang Inasal treated the whole family to lunch.

The outcome…happy eating and family bonding!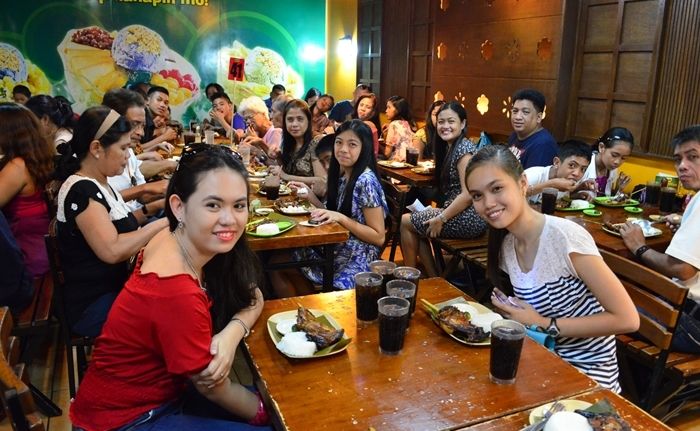 During the photo sessions, my parents were made to do different poses by their grandchildren.
In a certain pose, my father was requested to kiss my mother by a naughty nephew, but my mother refused. On this, a niece of mine commented " dalagang Filipina man gud si Lola, masuko sad unya iya mama". This remark was met with jovial laughter from the rest of our group. … ha!..ha!.. ha!
What fun the family's grandparents had during that special grandparents' day!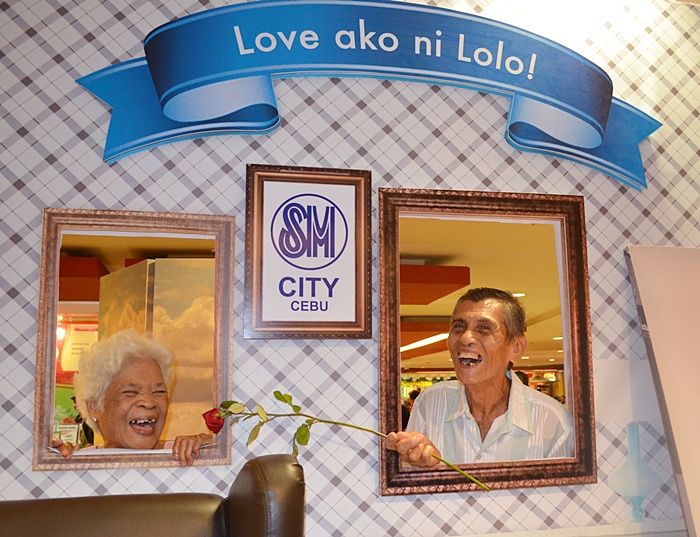 Our family is just a simple one. We are not perfect nor we are rich, but the family members care and support each other.  This is a family value we learned from our parents.  We are proud that we are a closely –knit family.  Each of us their children has our own families, yet, we are there for each other when the need arises.
So that's it… we are a family that love and support each other… large that we are, there are occasions all of us can have fun together like this big event!
This is OUR BIG, HAPPY FAMILY!!!
The Grandparents' day celebration last Sept. 8 was a most memorable event for the whole family.
Thanks to SM City Cebu and Mang Inasal for the prizes!!!
To keep updated with our posts like quirksoflife in facebook.